This Grand Opening was Definitely Elevated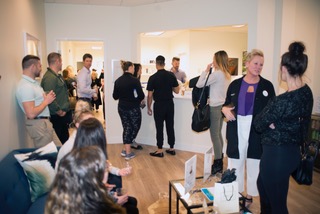 What a night to celebrate our Grand Opening in Lone Tree Colorado.  All of us at Elevation Med Spa would like to thank you for attending our open house last week.  We were proud to show off our new office and introduce you to our menu of services.
As those that attended were quick to see, our team is amazing.  Our Nurse Practitioner, Karen Hoffman, has an extensive depth of knowledge and understands how to make clients feel comfortable and confident.  She is remarkable at developing an individualized plan to get you the results you strive to achieve. Vinny Sathe is our Director of Marketing and rising superstar.  He is not only a Registered Nurse but also a creative dynamo that helps to create a vibe you will love.
We held several live demonstrations (https://youtu.be/Jgs4UHV3srE) throughout the open house to help everyone better understand our services and provide an opportunity to watch the procedure and ask questions.  We hope you found this to be both helpful and informative.
We have a lot of fun events planned for the first half of 2019 and will continue to share our stories as we launch Elevation Med Spa to the community.  We hope you enjoyed your time with us at the Grand Opening, and share your experiences with your friends.  The more you can help us through word of mouth, online reviews, or following on social media (@elevationmedicalspa) the more quickly we will expand our ability to reach others.
If you were not able to attend, we missed you and would love to have you stop by.  We are available for no obligation consultations or just come by and say hello.
You can schedule all your appointments and consultations online at www.elevationmedspa.com or call us at 303-993-6578.  We are energized by the enthusiasm from the open house and look forward to seeing you soon.
Chris